About a year ago, a customer of ours provisioned their brand new Office 365 tenant with Dutch language settings. But they are an international organization, and their official internal language is English.
That resulted in a problem.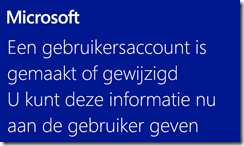 Until recently it was not possible to change the language of system e-mails in Office 365. With system e-mails I mean e-mails like the "New or modified user account information" e-mails that are sent out when you create a new user or reset the password of an existing user. When you provisioned a new Office 365 tenant with specific language settings, you were bound to that language. Of course individual users could set up their own language settings, and in SharePoint Online you could already create new sites in the language of your choice. But to change the language of those e-mails, just not possible.
There were more people in the world who struggled with this issue, for example: http://community.office365.com/en-us/f/158/t/206580.aspx
And contacting Microsoft Support resulted in the same answer: As we have established, the behavior faced now with not being able to change the language for the systems emails is a characteristic of the product that, at this moment, cannot be changed.
But recently an option was added in the Company Profile section of the Admin Portal, a Language Preference.

And yes! This option did exactly what I hoped it would do. It was set to Dutch and when I set it to English, the e-mails were sent out in English.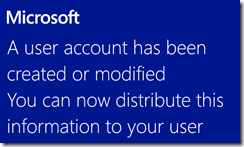 To get there, click your organization name in the top right corner of the Admin Portal's home page. You will be directed to the Update details of your institution page where you will find the option somewhere near the bottom.
Please note that it might take up to 24 hours before the change takes effect.