Update 18-2-2016: Delve Analytics enabled (but not really)
Update 14-3-2016: Delve Analytics is almost ready
Update 22-3-2016: Delve Analytics has arrived!
In December 2015 Microsoft launched their E5 plans in Office 365. The major benefits of E5 plans are of course PSTN Conferencing and Meeting Broadcasts with Skype for Business, and additional security features like Exchange Online Advanced Threat Protection and Customer Lockbox (for more information on the E5 plans, see this blog post on the Office Blogs site). But there is also Delve Analytics.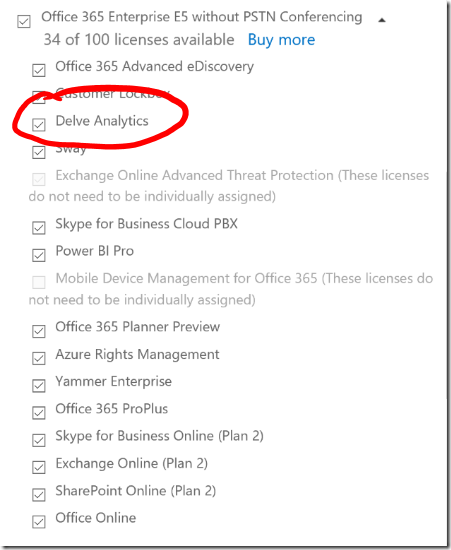 Here's what Microsoft says about Delve Analytics:
Delve Analytics provides real-time work analytics at the individual and organization level to optimize activities for the best business outcomes. You can improve personal and team effectiveness with dashboards that provide insights on time and relationships.
For a short but informative video, check out the Meet Delve Analytics video on Youtube.
This is something I have been looking forward to for quite some time, and when the E5 plans became available, I couldn't wait to start exploring Delve Analytics. So I waited, and I waited. But nothing happened in our First Release tenant. And after two months of waiting, and asking around (nobody seemed to have an answer), I finally found out (thanks for pointing me in the right direction @MikeFortgens) you have to submit a request to enable Delve Analytics first, and you can only do this in the preview version of the new Admin Portal. Right… So for all you eager people out there, just waiting, like I've been doing, here's how you can do this:
Step 1
Make sure you have your tenant in First Release mode (support.office.com).
Step 2
Enable the preview version of the new Admin Center by clicking the link "get a sneak peek" from the Dashboard page of your tenant admin center.

Step 3
Open the Settings menu (the gear icon on the left hand side of the page) and click Apps. There, at the bottom, you'll find Delve Analytics. Click it, and click the Submit button to submit a request to enable Delve Analytics for that tenant.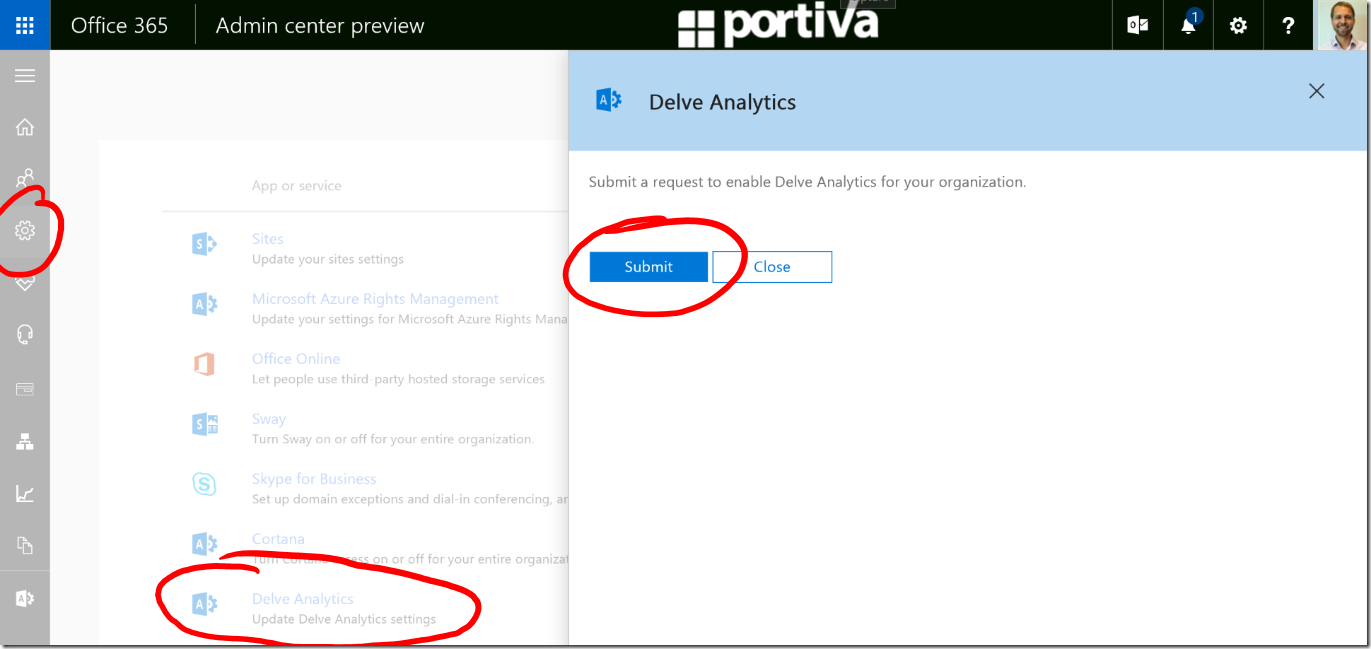 The confirmation page indicates that it might take a few weeks before you can really start using Delve Analytics. I'll keep you posted on the progress on our side!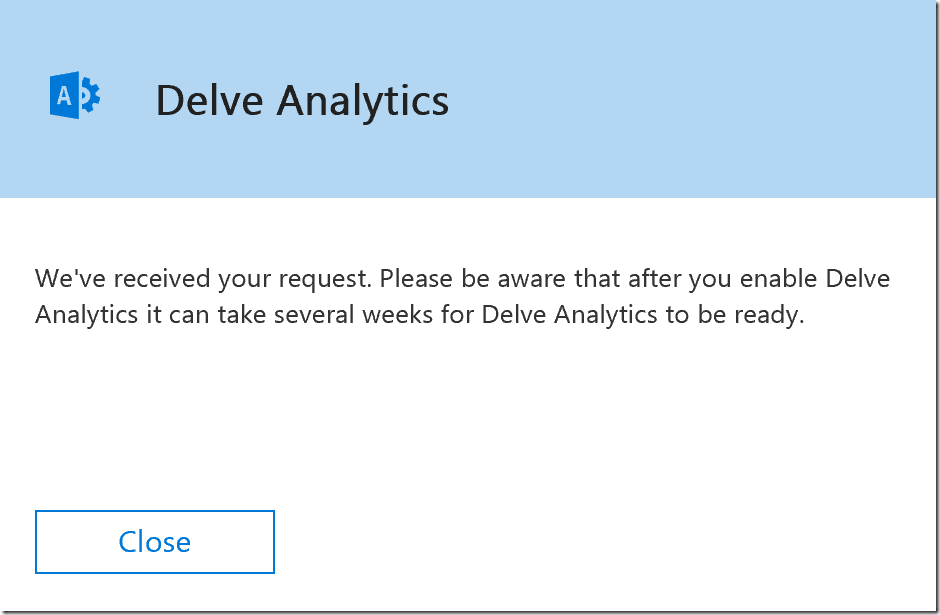 Update 18-2-2016: Delve Analytics enabled (but not really)
Ten days after submitting the request to enable Delve Analytics in our tenant, we received a new message in our Message Center in the tenant admin area:
"Welcome to Delve Analytics. Your tenant has been enabled and Microsoft has started to provision your data. Delve Analytics is a new Office 365 feature. You will begin seeing this new feature over the coming weeks."
Somewhere further in the same message, there's this line of text:
"Since Delve Analytics uses information in your calendar and email over a period of weeks to provide insights, the initial provisioning process takes a period of approximately 6 weeks to collect data and provide insights in your organization. We will inform you when your initial provisioning is complete."
So I guess it's 6 more weeks of waiting now (or actually 5 weeks left for us). Again, I'll keep you posted on the progress.
Update 14-3-2016: Delve Analytics is almost ready
Today we received a new Delve Analytics related message in our Message Center, with the title "Delve Analytics is almost ready".  And in the body of that message:
"Delve Analytics will soon be enabled for you."
That contradicts the message we got earlier a little bit, because that message told us that Delve Analytics was enabled in our tenant. But in fact it wasn't really. Or at least not yet visibly.
Anyway, there's also a couple of interesting remarks further down the same message:
Delve Analytics defaults to using activity data from all Office 365 users, including users not licensed for Delve Analytics. – Of course this makes sense, but it is something to keep in mind!
Once your organization has been provisioned, licensed users will automatically get Delve Analytics. – Also worth taking note of. If you don't want Delve Analytics enabled by default for (part of) your users, you can use the Set-UserAnalyticsConfig PowerShell cmdlet. With this cmdlet you can set the PrivacyMode for a user to Excluded (user cannot change this), Opted-out (user can change this to opt in from Feature Settings menu), or Opted-in (default value, user can change this to opt out).
Install the Outlook Add-In by running the following cmdlet: New-App etc. The syntax of the cmdlet given is unfortunately not correct. There's an -Url parameter missing. The correct cmdlet is:


New-App

-OrganizationApp

-Url

https

:

/

/

weveagavemailapp

.

azurewebsites

.

net

/

manifest

/

Delve

%

20Analytics

%

20Official

%

20

.

xml

-DefaultStateForUser

Enabled


Of course you first need to connect to your Exchange Online tenant:


$session

=

New-PSSession

-ConfigurationName

Microsoft

.

Exchange

-ConnectionUri

https

:

/

/

outlook

.

office365

.

com

/

powershell

-liveid

/

-Credential

$creds

-Authentication

Basic

-AllowRedirection

Import-PSSession

$session


The result:
The cool thing is: The Outlook Add-In is already working, even though Delve Analytics itself is not yet accessible. So Delve Analytics has indeed been "delving" data the last couple of weeks and through the Add-In that data is already visible. Great stuff!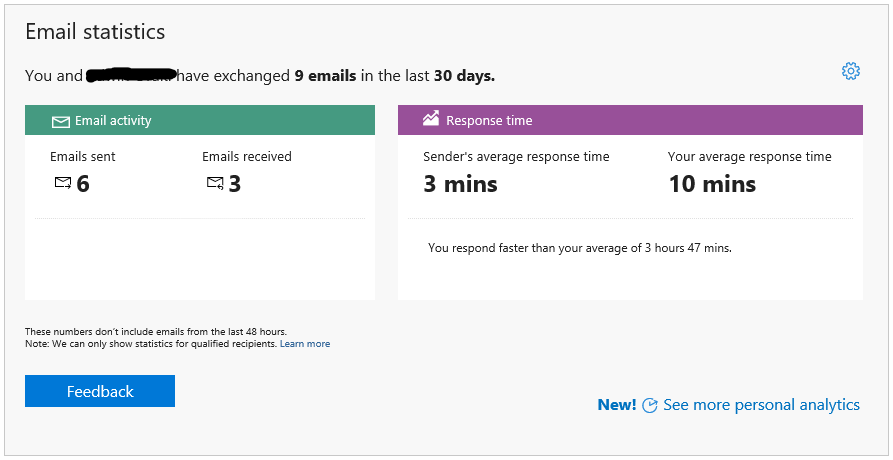 Now let's wait until Delve Analytics is enabled through the Delve interface too. I'll keep you posted!
Update 22-3-2016: Delve Analytics has arrived!
Yes! It's there! Seven weeks and one day after enabling Delve Analytics in our tenant, we can finally start using it fully. And it has some very nice statistics! Here's a couple of screenshots:

How much time did you spend in meetings, e-mail, focus hours (focus hours are defined as at least two consecutive hours of time without meetings) and after hours (shows time spent on email and in meetings outside defined work hours). I guess I need to start working a little bit less 🙂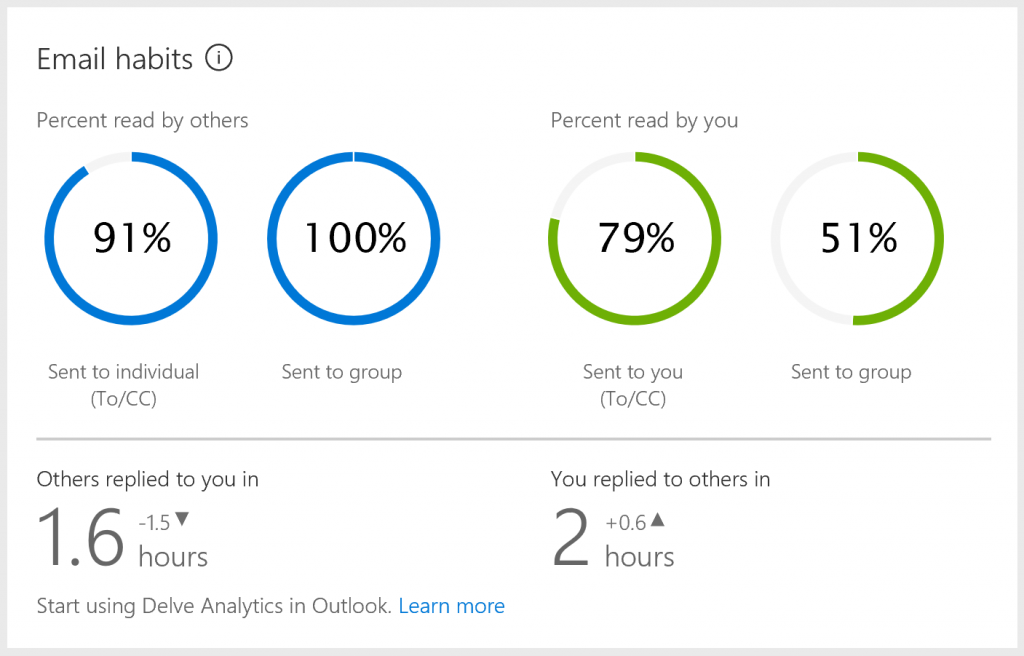 Which percentage of emails you've sent directly to individuals or groups (with a minimum of five eligible recipients) have been read by others? And which percentage of emails sent to you have you actually read? You'll also see how quickly others replied to you, and how quickly you replied to others.
You'll find a good explanation of all the statistics and what they represent or what they are based on, in this Microsoft support article: support.office.com/en-gb/article/Delve-Analytics-Dashboard-and-Outlook-add-in-c52d090c-a4fc-478c-b027-757ed86d5993?ui=en-US&rs=en-GB&ad=GB
All in all, powerful statistics, which, I believe, can help you organise your work week maybe a little bit better and more efficient!